Synopsis
" Your father and i love you more than you know. Who needs another sheep as white as the snow?
One day you will grow into a beautiful ewe, by then you will have a different point of view.
You'll see that what makes us special, makes us unique, And if we were all the same, this world would be bleak"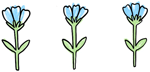 A charming tale of one loveable little lamb and her surprise discovery of what it is to be different.